Students from the TCD-UCD Masters in Development Practice (MDP) programme recently had the opportunity to meet with former US Vice-President Al Gore.  A summary by first-year MDP student Rachel Vannice below.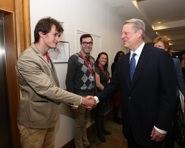 Romain Valadaud, Gearoid Fitzmaurice & Rachel
Vannice pictured with Former US Vice President Al
Gore (photo credit MRFCJ)
Dublin MDP students had the unique opportunity to volunteer with the Mary
Robinson Climate Justice Foundation, in conjunction with the Irish government and
many UN and NGO partners, in a conference entitled Hunger-Nutrition- Climate
Justice: A New Dialogue putting people at the Heart of Global Development.
The conference involved many actors at all levels of the interface between Hunger, Nutrition,
and Climate Justice. Current President of Ireland, Michael D. Higgins, Tánaiste and
Minister for Foreign Affairs and Trade, Eamon Gilmore TD and several other ministers
were in attendance. In addition, private partners, leading world-wide academics, UN
agency members, and leaders of grassroots organizations throughout Africa, South &
Central America and Asia participated in panel discussions and small 'learning circles.'
Within these circles, topics including 'Empowerment,' 'Rights' and the linking of 'Local
and National' interests were discussed and consensus recommendations were reached.
The unique blend of high-level policy participants, NGO leaders and community-
based organization developers allowed for the illumination of diverse perspectives.
Students were able to present their own experiences to contribute to these discussions.
Former Vice President of the United States of America, Al Gore, gave a rousing key note
address, specifically mentioning the role that students can play in shaping the future of
decisions and policies related to climate change, climate justice, and hunger. The
conference culminated in many newly-forged connections between various levels and
action plans to ensure that the effects of the conference would extend far beyond the
two intensive days. We, students, certainly will use the experience to improve our
understanding of the issues at hand and more importantly, the potential for solutions.
-Rachel Vannice 1st Year TCD-UCD M.Sc. International Development Practice